extrapenguin
The greatest dessert known to Finns must be brought to the Anglosphere's consciousness! Look at them: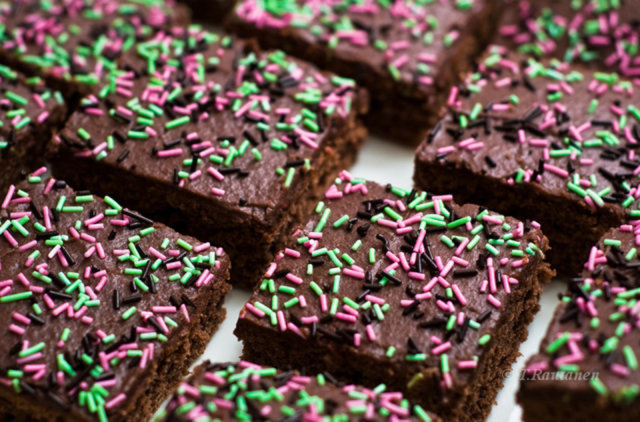 Using my mother's recipe, originally probably modded from something in
Allergikon keittokirja
(title might not be correct).
Ingredients
Base
100g margarine
3/4 dl sugar
1 egg
3/4 dl liquid (orange juice etc)
2 tbsp cocoa powder
2 tsp baking powder
2 dl flour
Icing
2 dl powdered sugar
2 tbsp strong coffee
25g margarine
1 tbsp cocoa powder
Recipe
Base
Mix margarine and sugar. Add egg, then liquid and flour. Pour onto an oven-safe container of appropriate size. Bake at 200°C around 20 minutes. Let cool.
Icing
Melt the margarine (do not let it explode), add the powdered sugar and coffee. Spread onto the base. Decorate with hundreds and thousands, coconut flakes, or powdered sugar, for example.
If you're like me and use an oven tray, multiply all quantities of ingredients by three.